Zhijianeng and Siemens have reached strategic cooperation to jointly boost the smart manufacturing upgrade of China's industry!
2022/4/16 17:26:38
Recently, Siemens Shenzhen Zhijianeng Automation Co., Ltd. DE003 MCD virtual debugging + ICP control cabinet certification partner authorization signing ceremony was successfully held in Shenzhen.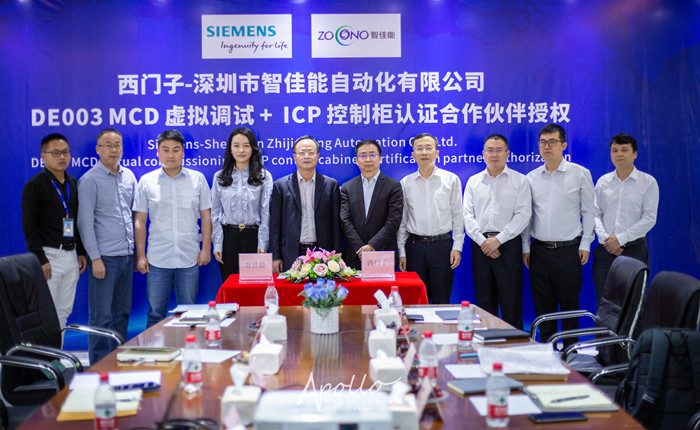 Signing ceremony of Zhijianeng & Siemens▲
Siemens Group: general manager of South China region of digital chemical plant group of blip Siemens (China) Co., Ltd., director of intelligent control cabinet development of Suping Siemens (China) Co., Ltd., intelligent control cabinet development specialist of Luo Chunhui Siemens (China) Co., Ltd., and sales manager of eastern Guangdong channel of South China region of digital chemical plant group of Cao Jianjun Siemens (China) Co., Ltd Peng Lei, digital specialist of Siemens (China) Co., Ltd. and the leading group represented by general manager Zhang Kunming of our company attended the signing ceremony to witness the strong alliance between Siemens and zhicanon.
Witnessing by the delegation of both sides, Zhijianeng and Siemens formally reached a strategic cooperation. This means that the two sides will further share advantageous resources, reduce costs, improve work efficiency, and jointly boost the intelligent manufacturing upgrading of China's industry!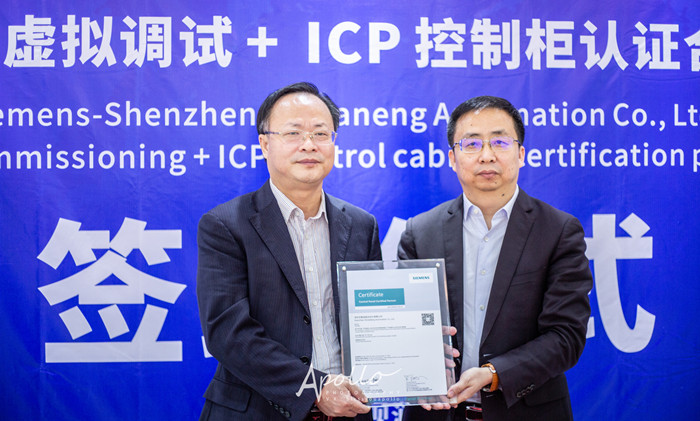 Zhijianeng & Siemens reach strategic cooperation▲

Higher flexibility, shorter time to market, higher efficiency and better quality are the requirements of industry 4.0 for manufacturing enterprises, and are also the key indicators for future digital transformation and upgrading of enterprises to reshape their competitiveness.

After becoming the partner of Siemens DE003 MCD virtual debugging + ICP control cabinet certification, Zhijianeng will use Siemens digital twin technology to design products through software, and debug the equipment in virtual environment, which can greatly speed up the speed of Zhijianeng equipment pushing to the market.

At the same time, Zhijianeng will closely focus on the development of automation and information technology. The production process, process and quality will be supervised by Siemens. The control cabinet products will leave the factory in strict accordance with Siemens standards. Under the guidance of Siemens professional engineers, Zhijianeng will deeply improve the manufacturing process and reduce the time to solve problems in the process of installation, debugging and production.

Therefore, the cooperation with Siemens will further promote the quality management of Zhijianeng, comprehensively enhance the industry competitiveness of the company, and accelerate the digital transformation and upgrading process of the company.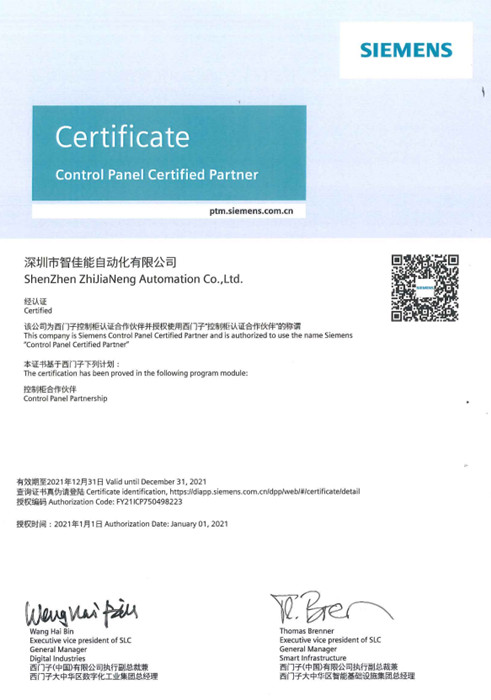 Siemens authorizes Zhijianeng as partner▲

Siemens is a world-renowned international enterprise, leading the world in the field of electrical manufacturing and intelligent production. This signing will further promote the market expansion of Zhijianeng. Canon will take this opportunity to further diversify market demand and continuously push forward the research and development of networking and digital solutions and products in China's warehousing and logistics industry. From Internet plus intelligence + energy to new infrastructure, we will strive to become the domestic high-end intelligent manufacturing leader.